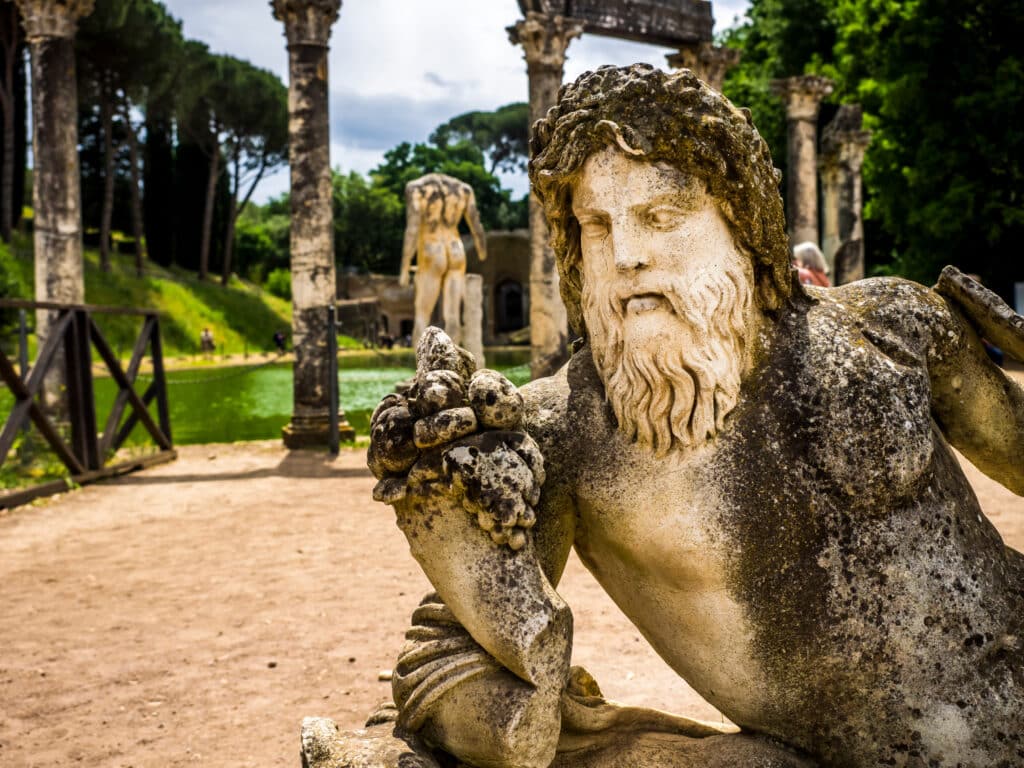 To explore Hadrian's Villa, visitors must pay an entrance fee. The fee for adults is €10, and the reduced ticket costs €2. However, children under 18 can enter for free. Visitors can also opt for a combo ticket that includes entry to Hadrian's Villa, Villa d'Este, the Sanctuary of Hercules Victor, and Mena Ponderaria. The combo ticket costs €25 for adults and €6 for a reduced ticket.
Hadrian's Villa, also known as Villa Adriana, is a stunning archaeological site located in Tivoli, Italy. As one of the most impressive and well-preserved examples of Roman architecture, the villa offers a unique insight into the life and times of the Roman Emperor Hadrian. But what makes this villa stand out from other ancient structures? Let's embark on a journey through history to uncover the secrets of Hadrian's Villa.
Stepping into Hadrian's Villa is like traveling back in time to the ancient Roman era. As you wander through the site, you'll be amazed by the grandeur and magnificence of the structures. You'll also gain a deeper understanding of the life and reign of Emperor Hadrian, who designed the villa.
Archaeologists have recently uncovered a network of tunnels underneath the complex, some large enough for chariots to pass through. It is believed that servants and slaves used these tunnels to move around the villa undetected. The discovery of these tunnels has shed new light on the daily life of those who lived and worked at Hadrian's Villa.
To fully appreciate the significance of Hadrian's Villa, it is highly recommended to take a guided tour. With a knowledgeable guide, you'll learn all the details about the site and have the ruins put into context. You'll also have the opportunity to ask questions and gain a deeper appreciation of the villa's historical importance.
Most visitors to Tivoli plan a day trip from Rome to see both Hadrian's Villa and Villa d'Este. These two magnificent sites are located just a few miles apart and can easily be visited in a day. Villa d'Este is another UNESCO World Heritage Site that showcases the beautiful fountains and gardens of the Renaissance era. A trip to both Hadrian's Villa and Villa d'Este is a perfect way to spend a day immersing yourself in the rich history and beauty of Italy.
History of Hadrian's Villa
Hadrian, born in 76 AD, ruled the Roman Empire from 117 to 138 AD. He was an avid traveler, a patron of the arts, and a skilled architect. His reign was marked by significant architectural contributions and a focus on consolidating the empire's borders. Hadrian's Villa was one of his most significant personal projects, reflecting his passion for architecture and showcasing the grandeur of his reign.
The construction of Hadrian's Villa began around 118 AD, shortly after Hadrian ascended to the throne. The complex took nearly a decade to complete, with continuous additions and improvements made throughout his reign. The villa was not only a luxurious retreat but also a symbol of Hadrian's power and influence.
Architecture and Design
Hadrian was known for his appreciation of different cultures and architectural styles. The design of the villa reflects his admiration for Greek, Egyptian, and other Eastern cultures. He incorporated various elements from these traditions, resulting in a unique blend of architectural styles that showcased the diversity and sophistication of the Roman Empire.
Hadrian's Villa was an extensive complex that sprawled over 120 hectares, making it one of the largest and most opulent Roman villas ever built. The site included residential buildings, baths, libraries, gardens, and various recreational facilities. The villa was designed to provide maximum comfort and luxury while simultaneously serving as a microcosm of the empire.
Maritime Theatre
The Maritime Theatre, also known as the Teatro Marittimo, is one of the most iconic features of Hadrian's Villa. This circular structure, surrounded by water, was designed to resemble a small island.
The Maritime Theatre served as a private retreat for Emperor Hadrian, where he could escape the demands of his imperial duties. The complex featured living quarters, a library, and a small garden, all connected by a series of walkways and bridges that provided access to the island.
Canopus
The Canopus was an elongated canal flanked by statues and pavilions, creating a serene and picturesque setting. It was designed to evoke the famous Egyptian city of Canopus, showcasing Hadrian's admiration for Egyptian culture. The Canopus was used for social gatherings and banquets, offering a sophisticated and tranquil atmosphere for the emperor and his guests.
Imperial Palace
The Imperial Palace was the heart of Hadrian's Villa, featuring lavish living quarters, dining rooms, and private gardens for the emperor and his family. The palace was adorned with intricate mosaics, frescoes, and stucco decorations, reflecting the opulence and grandeur of Hadrian's reign.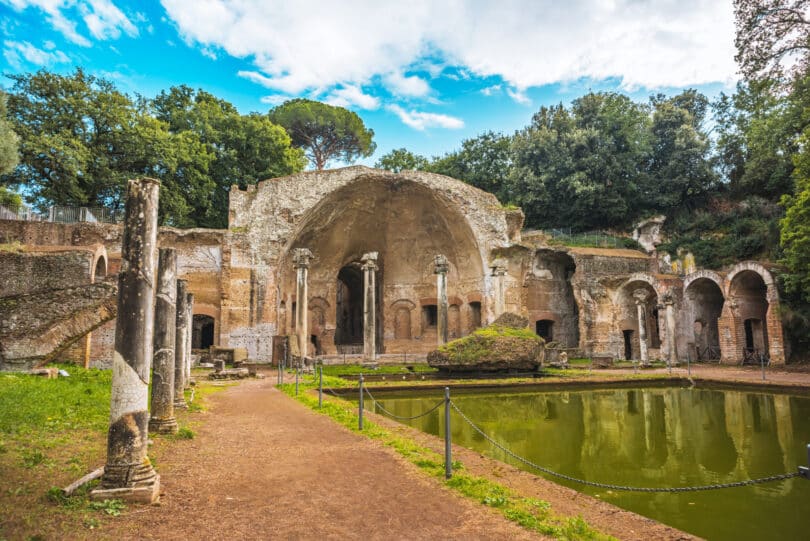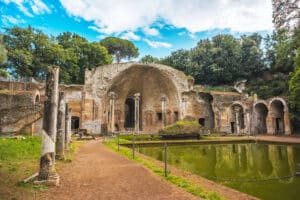 Greek Theatre
The Greek Theatre, also known as the Teatro Greco, was a testament to Hadrian's admiration for Greek culture. The semi-circular theatre featured a central stage and tiered seating, providing an intimate venue for performances and other cultural events. The theatre was used for both entertainment and educational purposes, reflecting the emperor's commitment to fostering arts and culture within the empire.
Since its discovery in the 16th century, Hadrian's Villa has been the subject of numerous archaeological excavations. These investigations have uncovered a wealth of artifacts, including sculptures, frescoes, and mosaics that offer valuable insights into the daily life and artistic achievements of the Roman Empire. Among the most notable discoveries are the statues of Antinous, Hadrian's beloved companion, and the caryatids, female figures that serve as architectural supports.
Hadrian's Villa Today
In recognition of its historical and cultural significance, Hadrian's Villa was designated a UNESCO World Heritage Site in 1999. This prestigious status helps to ensure the ongoing preservation and protection of the site for future generations to appreciate and learn from.
Today, Hadrian's Villa is open to the public as an archaeological park, offering visitors a chance to explore the remarkable ruins and learn about the rich history of the site. Guided tours, educational programs, and interactive exhibits provide an immersive experience, allowing visitors to step back in time and witness the grandeur of Hadrian's architectural vision.
Visiting Hadrian's Villa offers a unique opportunity to witness the grandeur and architectural innovation of the Roman Empire. As you explore the site, you will be transported back in time, gaining a deeper understanding of the life and reign of Emperor Hadrian. Whether you are a history enthusiast, an architecture lover, or simply curious about the ancient world, Hadrian's Villa is a must-visit destination that will leave a lasting impression.
Tuesday
9:00 am - 5:30 pm
Wednesday
9:00 am - 5:30 pm
Thursday
9:00 am - 5:30 pm
Saturday
9:00 am - 5:30 pm
Sorry, there were no items that matched your criteria.