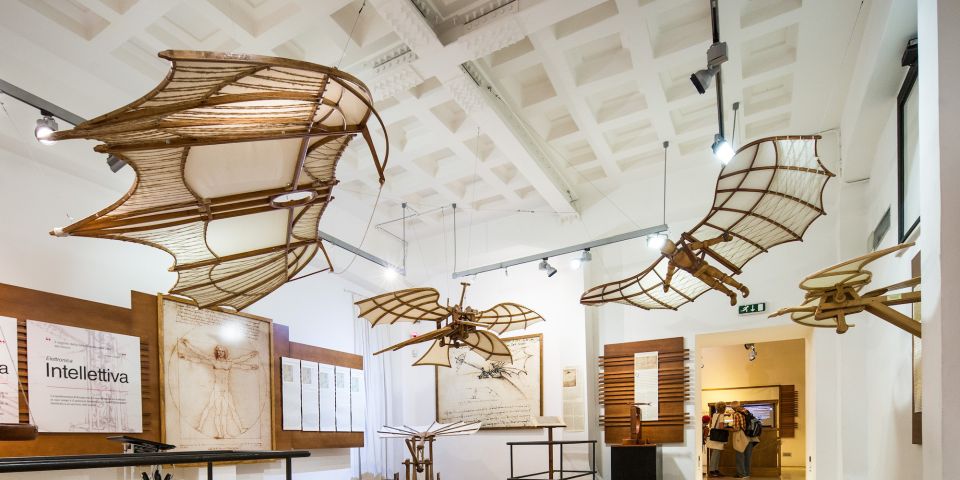 The entrance fee for the Leonardo da Vinci Exhibition in Rome is 9€ for 2023. At the Leonardo da Vinci Exhibition, you can see more than 65 full-scale machines based on Leonardo da Vinci's designs and explore 9 holograms showing Da Vinci's inventions in 3D.
History and engineering fans rejoice – here's a place where you can play and learn at the same time. See and use life-sized replicas of Leonardo da Vinci's creations. Don't forget the animated hologram section. And when you're done, check out an underground burial temple in the same building!
Did you know that even though credit went to Sebastien Lenormand for pioneering modern parachuting in 1783, Leonardo da Vinci came up with the idea a few hundred years earlier? That's just one example of how this Renaissance man was years ahead of his time.
Here in one of Rome's most beautiful buildings, the Palazzo della Cancelleria, owned by the Vatican, see a huge array of mechanical, scientific, military and aviation inventions, all built using da Vinci's original drawings for reference.
With more than 200 machines, including 65 reconstructed working models and nine animated holograms, you'll feel like you're looking at the inner workings of his mind.
Stick around and check out the upper floor, which houses the Vatican court: the Sacra Rota and the Sala dei Cento Giorni, frescoed by Vasari. You can also access the remains of a burial temple dating back to 43 BC. It's reality so awesomely ingrained in fantasy, it's bound to be a highlight of your trip.
Tuesday
9:30 am - 7:30 pm
Wednesday
9:30 am - 7:30 pm
Thursday
9:30 am - 7:30 pm
Saturday
9:30 am - 7:30 pm