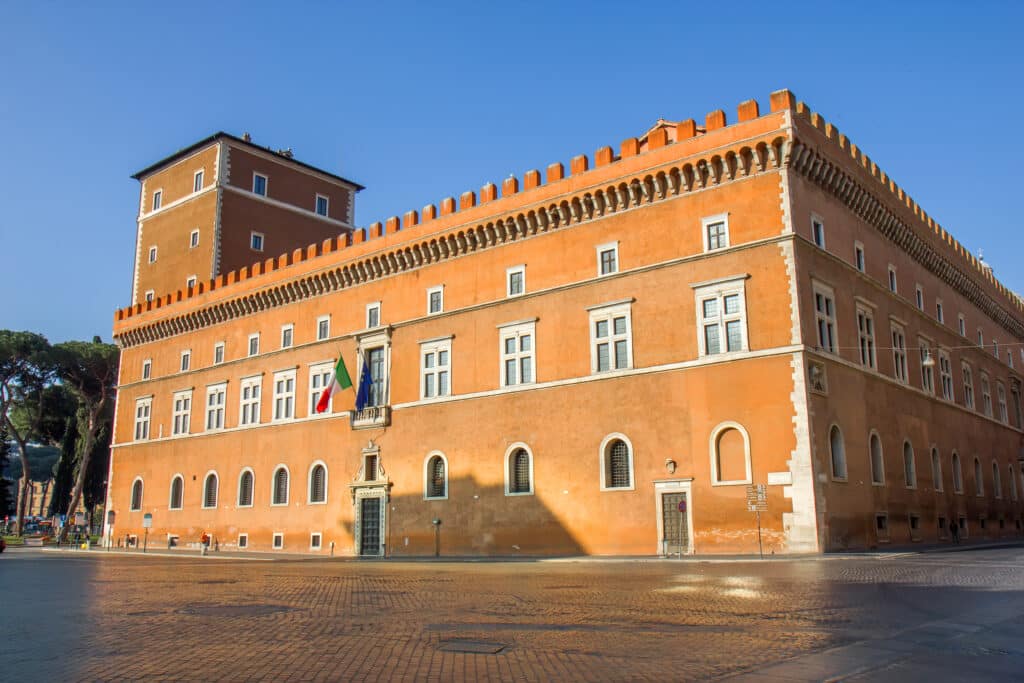 Admission to Vittoriano and the Giardino Grande of Palazzo Venezia is free. For entry to the Terrazza Panoramica, Museo Centrale del Risorgimento, and Museo Nazionale del Palazzo di Venezia, ticket prices are as follows:
Full price: €15
Concessions: €2 (for visitors aged 18-25)
Free: Under 18s, people with disabilities, and other eligible categories
Vittoriano and Palazzo Venezia are open every day from 9:30 am to 7:30 pm, with the last entry at 6:45 pm. You can find Palazzo Venezia at Via del Plebiscito, 118 or Piazza San Marco, 49, while the entrance to Vittoriano is at Piazza Venezia. Tickets are valid for seven days from the date of issue and grant access to all sites. On the first Sunday of each month, admission is free, but tickets are only valid for that day.
Attractions and Exhibitions
Vittoriano houses a number of significant attractions, including:
Tomb of the Unknown Soldier: The changing of the guard takes place every hour. Please consult the Ministry of Defence website for more information on accessing the Shrine of Flags and the Shrine of the Unknown Soldier.
Museo Centrale del Risorgimento: Discover Italy's history at this fascinating museum.
Terrazza Panoramica: Enjoy breathtaking views of Rome from the panoramic terrace.
At Palazzo Venezia, you can explore:
Giardino Grande: A beautiful garden open to the public.
Museo Nazionale del Palazzo di Venezia: An impressive museum showcasing Italian art and history.
A Brief History of Palazzo Venezia
Have you ever wondered what it would be like to step into a time machine and be transported to the Renaissance era? Look no further than Palazzo Venezia in the heart of Rome. This magnificent palace is a true testament to the rich history and architectural prowess of Italy. In this article, we will take you on a journey through the palace's intriguing past, architectural marvels, art exhibits, and everything else you need to know for a memorable visit.
Palazzo Venezia, built in the 15th century, initially served as a residence for the Republic of Venice's ambassadors. The palace's construction was commissioned by Cardinal Pietro Barbo, who later became Pope Paul II. The design of the building is a masterpiece of Renaissance architecture, with its intricate details and grandiose facades. For centuries, Palazzo Venezia was the epicenter of Venetian diplomacy in Rome. As the seat of power for the ambassadors, the palace played a crucial role in fostering relations between Venice and the Papal States.
Palazzo Venezia later became a papal residence, and several popes resided there. During World War II, the palace served as the headquarters for Benito Mussolini. It was from the palace's balcony that Mussolini delivered many of his infamous speeches to the Italian people.
Architectural Marvels of Palazzo Venezia
Renaissance Architecture: Palazzo Venezia is a prime example of Renaissance architecture, featuring distinctive elements such as Corinthian columns, elegant arches, and symmetrical facades. These characteristics make the palace a must-visit destination for architecture enthusiasts.
The Tower of Palazzo Venezia: One of the most striking features of Palazzo Venezia is its imposing tower. The tower, built in the 16th century, offers breathtaking panoramic views of the surrounding area, including Piazza Venezia and the Roman Forum
The Courtyard: The palace's courtyard is another architectural marvel, showcasing a harmonious blend of Renaissance and medieval elements. The courtyard boasts a stunning portico, adorned with intricate carvings and frescoes, which provides a serene space for visitors to admire the palace's beauty.
Art and Exhibits
The National Museum of Palazzo Venezia: Today, Palazzo Venezia houses the National Museum of Palazzo Venezia, which boasts an extensive collection of Italian Renaissance art, sculptures, ceramics, and tapestries. The museum is a treasure trove for art enthusiasts, offering a glimpse into Italy's rich artistic heritage.
The Sala Regia: The Sala Regia is one of the most impressive rooms in Palazzo Venezia. This grand hall features ornate frescoes, elegant marble floors, and a magnificent coffered ceiling. The room has hosted numerous historical events, including papal conclaves and diplomatic receptions.
The Apartment of the Cardinal: The Apartment of the Cardinal is another must-see exhibit within the palace. This luxurious suite, once occupied by Cardinal Pietro Barbo, showcases opulent furnishings, exquisite frescoes, and a collection of priceless art.
Tips for Visiting Palazzo Venezia
Before you embark on your journey to Palazzo Venezia, keep these tips in mind for a smooth and enjoyable visit:
Allocate at least 2-3 hours to explore the palace and its exhibits thoroughly.
Wear comfortable shoes, as there's plenty of walking involved.
Don't forget your camera to capture the stunning architecture and artwork.
Consider hiring a tour guide or joining a group tour to gain a deeper understanding of the palace's history.
Palazzo Venezia is a captivating destination that will transport you back in time to the splendor of the Renaissance era. With its rich history, breathtaking architecture, and impressive art collection, this palace is a must-visit for anyone exploring the Eternal City. So, don't miss the opportunity to immerse yourself in the beauty and grandeur of Palazzo Venezia on your next trip to Rome.
Tuesday
9:30 am - 7:30 pm
Wednesday
9:30 am - 7:30 pm
Thursday
9:30 am - 7:30 pm
Saturday
9:30 am - 7:30 pm