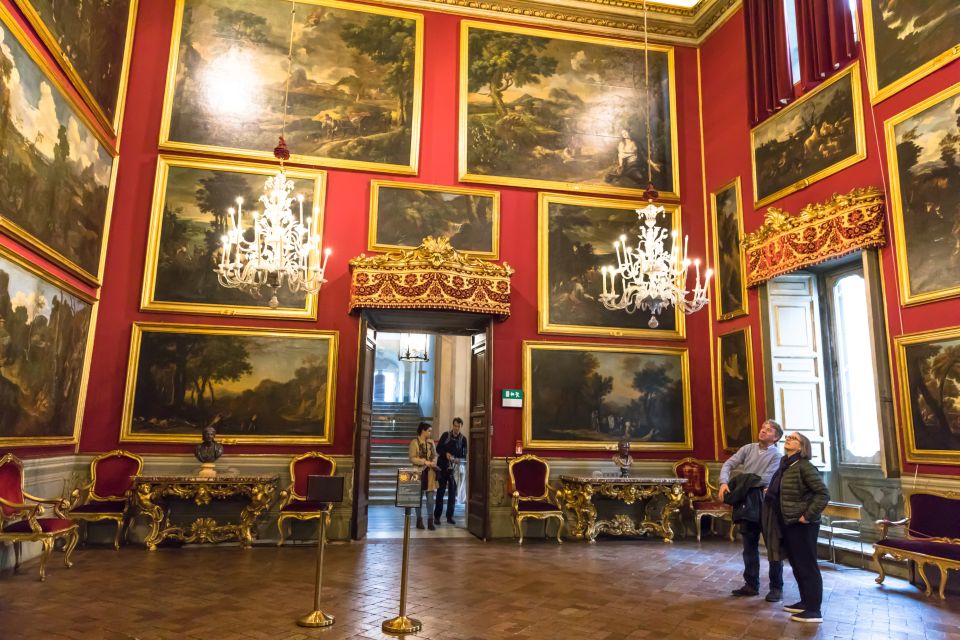 The entrance fee for Palazzo Doria Pamphilj is 22€ for 2023. You can book tickets for Palazzo Doria Pamphilj in advance, or you can join private guided tours and attend the Vivaldi & Opera concert.
The Palazzo Doria, one of Rome's largest palaces, is bounded by the Corso, Via del Plebiscito, Via della Gatta, Piazzo del Collegio Romano and Via Lata, with the Palazzo Bonaparte forming an enclave at the South East corner. In the course of its three centuries of existence the palace, with its varied fapades and courtyards, has been fashioned by a number of different architects and owned by different families – first the della Rovere, then the Aldobrandini and finally the Pamphili, from whom it descended to the Doria family.
Doria Pamphilj Gallery
The Galleria Doria Pamphili contains a collection of pictures, mainly from the private collections of the Pamphili and Doria families. They include works by Titian, Tintoretto, Correggio, Raphael (?), Lippi, Lotto, Bordone, Caravaggio (including his masterly "Rest on the Flight into Egypt"), Velazquez (the famous portrait of Pope Innocent X Pamphili), Claude, Breughel, Domenichino and Solimena as well as some fine marble sculpture (including a bust of Innocent X by Bernini). Visitors are also shown the private and state apartments of the palace, with pictures and sculpture.
Monday
10:00 am - 5:30 pm
Tuesday
10:00 am - 5:30 pm
Wednesday
10:00 am - 5:30 pm
Thursday
10:00 am - 5:30 pm
Friday
10:00 am - 5:30 pm
Saturday
10:00 am - 5:30 pm
Sunday
10:00 am - 5:30 pm