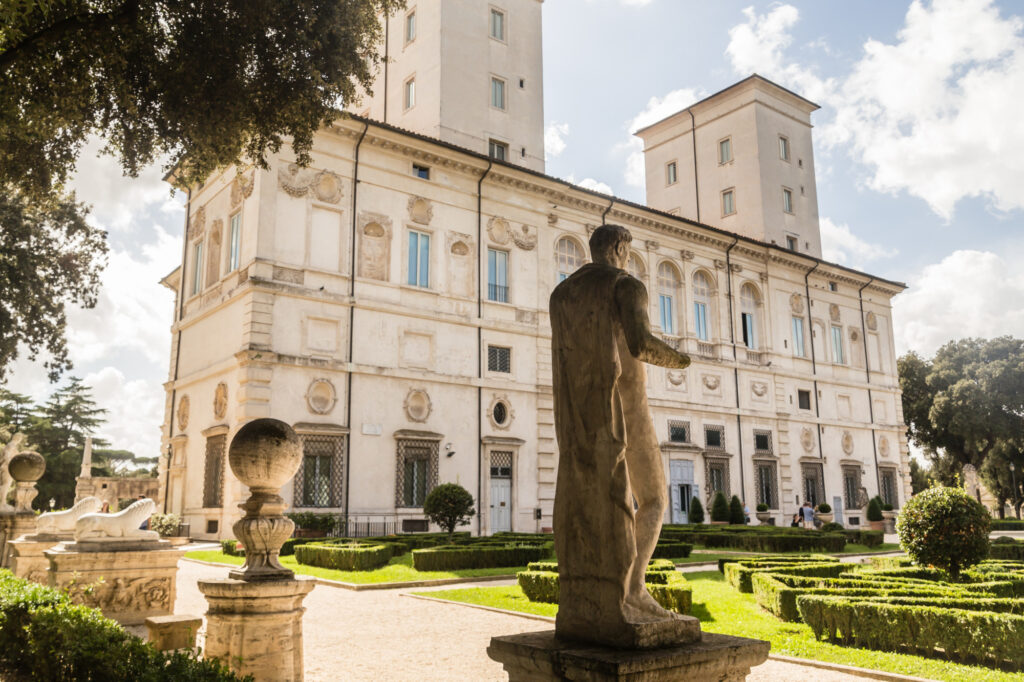 In 2023, admission to the Borghese Gallery is priced at €29 for adult visitors. Complimentary access is granted to EU citizens below 18 years of age, as well as disabled EU citizens and one accompanying person.
Operating from Tuesday through Sunday, the Borghese Gallery welcomes guests between 9 am and 7 pm, with the final admission occurring at 5 pm. To maintain an enjoyable experience, entry is scheduled every two hours for a maximum of 360 individuals per session. It is highly recommended that visitors secure their reservations in advance to prevent any disappointment. While there is a possibility of procuring last-minute tickets approximately 30 minutes after a session has commenced, this option is not guaranteed, particularly during the high-demand season.
The Origins of the Borghese Gallery
Ah, the Borghese Gallery! Nestled in the heart of Rome, this artistic gem is a treasure trove waiting to be explored. Brimming with history, culture, and some of the most breathtaking masterpieces you'll ever lay eyes on, it's no wonder that the Borghese Gallery has captured the hearts and minds of art lovers around the world. In this in-depth guide, we'll delve into the fascinating story behind the gallery, the masterpieces it houses, and how you can make the most of your visit. So buckle up, and let's embark on a captivating journey through Rome's artistic wonderland.
The Borghese Gallery's story begins in the early 17th century with the ambitious Cardinal Scipione Borghese, a man with an insatiable appetite for art. As Pope Paul V's nephew, he was in a prime position to amass a jaw-dropping collection of artistic masterpieces. And, boy, did he do just that! Scipione quickly gained a reputation as a discerning and relentless collector, snapping up works from renowned artists such as Caravaggio, Bernini, and Titian, to name just a few.
Scipione's passion for art didn't stop at collecting. He also commissioned the construction of Villa Borghese, a magnificent estate that would house his ever-growing collection. Set amidst lush gardens, the villa became a symbol of opulence and artistic refinement. Over time, Villa Borghese evolved into the esteemed museum we know today as the Borghese Gallery.
A Glimpse into the Borghese Gallery's Collection
At the heart of the Borghese Gallery lies a collection of sculptures that would make any art aficionado swoon. Gian Lorenzo Bernini's creations steal the show, with masterpieces such as "Apollo and Daphne," "David," and "The Rape of Proserpina" showcasing his remarkable talent for capturing movement and emotion in stone.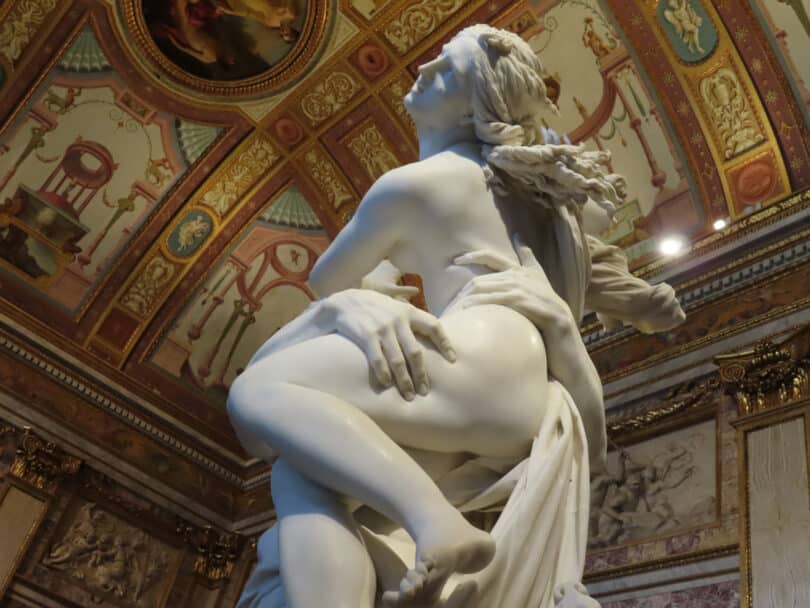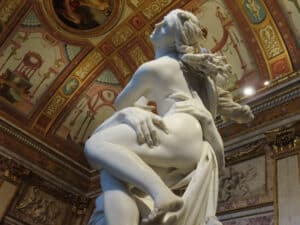 The Borghese Gallery's walls are adorned with a dazzling array of paintings that span centuries of artistic excellence. Caravaggio's groundbreaking chiaroscuro technique is on full display in works like "David with the Head of Goliath" and "Boy with a Basket of Fruit." Titian's sensuous brushwork captivates in his piece "Sacred and Profane Love," while Raphael's delicate touch shines in "The Deposition."
The gallery itself is a work of art, boasting frescoed ceilings, intricate stuccowork, and awe-inspiring architecture. As you wander through the ornate rooms, you'll feel as if you've stepped back in time, surrounded by the grandeur of a bygone era.
Don't Forget to Explore the Surrounding Gardens
The Villa Borghese Gardens, which surround the gallery, are an attraction in themselves. This sprawling green oasis offers a serene escape from the bustling city and features sculptures, fountains, and even a small lake. Take some time to stroll through the gardens and soak up the beauty of this peaceful haven.
Frequently Asked Questions about the Borghese Gallery
Q: How long should I plan for my visit to the Borghese Gallery?
A: Most visitors spend about 2-3 hours exploring the Borghese Gallery. However, if you're an avid art lover, you might want to allocate more time to fully appreciate the depth and breadth of the collection.
Q: Is photography allowed in the Borghese Gallery?
A: Unfortunately, photography is not permitted inside the gallery. This policy helps to preserve the artworks and maintain a calm, contemplative atmosphere for all visitors to enjoy.
Q: Can I visit the Borghese Gallery with children?
A: Absolutely! The Borghese Gallery is a family-friendly destination, and children are sure to be captivated by the magnificent sculptures and paintings. Just remember to keep an eye on little ones, as touching the artworks is strictly prohibited.
The Borghese Gallery is truly a must-see attraction for anyone visiting Rome. This artistic wonderland transports you back in time, enveloping you in a world of beauty, history, and culture. From the breathtaking masterpieces within its walls to the idyllic gardens that surround it, the Borghese Gallery promises an unforgettable experience that will leave you yearning for more. So, pack your bags, book your tickets, and get ready to embark on a journey of discovery through one of Rome's most cherished treasures.
Tuesday
9:00 am - 7:00 pm
Wednesday
9:00 am - 7:00 pm
Thursday
9:00 am - 7:00 pm
Saturday
9:00 am - 7:00 pm