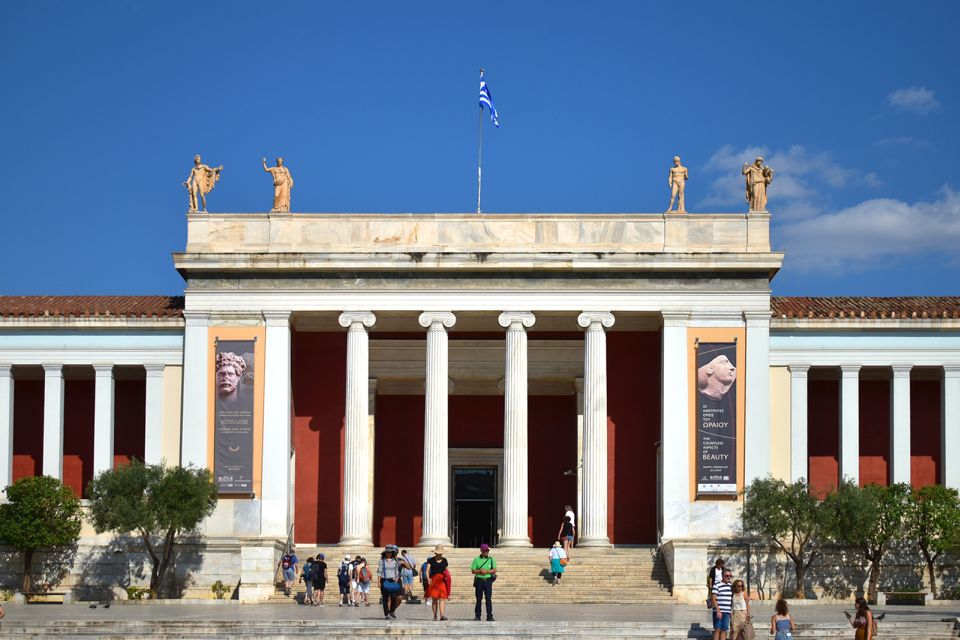 The National Archaeological Museum of Athens, a treasure trove of ancient Greek history and culture, offers different entry fees depending on the tourism season. During the high tourism season, which spans from April to October, the entrance fee is 15 Euros. However, in the low tourism season from November through March, visitors can gain entry for just 6 Euros. Remarkably, the Museum offers free admission to minors under 18 years of age, a policy that applies to all archaeological sites and museums in Greece.
Regarding operational hours, the Museum maintains varied schedules throughout the year. From Monday to Sunday, the museum opens its doors at 8:30 am and closes at 19:30 pm. However, on Mondays, it opens a bit later at 1:00 pm. During the winter season, the Museum's working hours change slightly, still starting at 13:00 on Mondays but closing earlier on other days at 15:00.
It's important to note that the Museum is closed on several key dates throughout the year. These include Christmas on December 25th and 26th, New Year's Day on January 1st, Greek Independence Day on March 25th, Greek Easter Day (which fluctuates each year but generally falls in April or May), and Labor Day on May 1st. Be sure to plan your visit around these closures to ensure a seamless exploration of Greek antiquity.
The Museum's Origins
Welcome, history enthusiasts! Are you ready for a virtual exploration of one of the world's greatest museums? Let us take you on a journey through time to the National Archaeological Museum of Athens. This treasure trove of ancient artifacts not only preserves the rich history of Greece but also stands as a testament to the profound impact of ancient civilizations on our modern world.
The National Archaeological Museum of Athens, with its origins tracing back to the late 19th century, was intended to secure the rapidly increasing collections of significant archaeological artifacts discovered throughout Greece. Doesn't it sound fascinating that a single building houses countless stories of civilization, culture, and art that span thousands of years?
Designed by Ludwig Lange, the museum's grand architecture echoes the classical beauty of the artifacts it houses. The Neo-Classical façade, complete with columns and pediments, mirrors the architectural grandeur of ancient Greece, serving as an apt metaphor for the treasures within.
The Collections
Diving deeper into the museum, its varied collections offer a glimpse into different eras and aspects of ancient Greece and beyond.
Prehistoric Collection: The Prehistoric Collection transports us to a time before written records, where each artifact narrates a story from the dim recesses of human history. From the renowned gold masks of Mycenae to the frescoes of Santorini, each piece is a piece of the prehistoric puzzle.
Sculpture Collection: The Sculpture Collection provides a comprehensive history of Greek sculpture from the 7th century BC to the 5th century AD. It's like walking through a 3D timeline, isn't it?
Vase and Minor Arts Collection: Ever admired the iconic ancient Greek vases in textbooks? The Vase and Minor Arts Collection showcases a breathtaking variety of these, along with terracottas, jewelry, and other minor arts that collectively depict the artistic genius of ancient artisans.
Metallurgy Collection: The Metallurgy Collection underlines the technical prowess of the ancient world, featuring objects made from copper, bronze, iron, and even gold and silver. It's akin to a journey into an ancient engineer's workshop, isn't it?
Egyptian and Near Eastern Antiquities Collection: Adding a global perspective, the Egyptian and Near Eastern Antiquities Collection hosts artifacts from Egypt and the eastern Mediterranean from the prehistoric era to Roman times. It's fascinating how interconnected the ancient world was, don't you think?
The National Archaeological Museum of Athens, with its treasure trove of artifacts and immersive experiences, is more than a museum. It's a journey through time, a scholar's paradise, and a testament to human ingenuity. So, are you ready for this remarkable journey through the annals of history?
Tuesday
8:30 am - 7:30 pm
Wednesday
1:00 pm - 7:30 pm
Thursday
8:30 am - 7:30 pm
Saturday
8:30 am - 7:30 pm